Building a strong, durable and impactful early education program is a difficult thing to do. BUT YOU'RE NOT IN IT ALONE! Gather your board and some staff, parents and community leaders and fill out this survey. Your spot on our Where You Are Bar will help you decide your next areas of focus. Then tap into our Nonprofit Toolbelt Grants to help you study, compare, consult and even hire a mentor or coach.
To get started, simply select the column that best describes where your organization stands on each topic.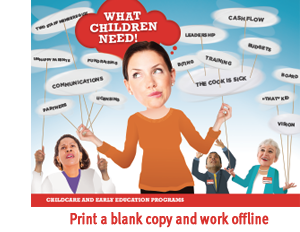 HERE'S THE TOPIC:
HERE'S WHERE WE ARE:
Your Results:
NEVER
Your days at work might seem tough – maybe a few that require alternating IV's of coffee and chocolate.
Your Results:
SOMETIMES
It might feel like you're taking two steps forward and one step back – is there a GPS for nonprofits?
Your Results:
FREQUENTLY
You've got it goin' on! Time to treat yourself to a bubble bath – after this board meeting, of course.
Your Results:
CONSISTENTLY
In short: YEEEESSSS! If you were abs, you'd be a six-pack.
Your Results:
ALWAYS
WOW – time to take a load off and enjoy your success! Seriously. Go home, sit down, kick up your feet and breathe.