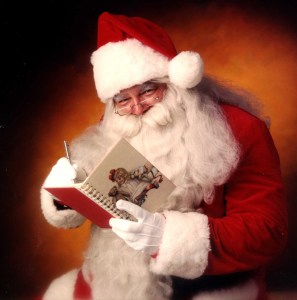 Dear Santa,
Our grantees have been very good this year.  They have worked hard and long  to help children grow up happy, healthy and ready for economic freedom.  If it would not be too much trouble, will you please put the following gifts underneath each of their organizational Christmas trees?
A great leader.   In his book, Good to Great, Jim Collins described great organizational leaders as Level 5 Leaders.  He says that Level 5 Leaders:  Focus  sharply on the  success of their organizations; drive for sustained results; set up their successors for success; are modest and take responsibility when things go wrong.
A board of directors that is willing and able to help sustain the organization.  Yes, this means fundraising, fund development, getting revenue and all other forms of bringing in the money to help the organization  accomplish its mission.
At least one person who will ask hard questions such as:  "Will someone please help me to understand this financial statement?'  and "How can our executive director run the organization when she has to spend so much time on programming?
The ability to use all of the resources that their funding partners (the Dekko Foundation, their local community foundation and United Way etc.) have available.  We funders have money, sure, but we also have experiences, contacts and more.  It all helps!
We have left cookies and milk by the Christmas trees Santa, and carrots for the reindeer.  We'd love it if you can bring these gifts.
Sincerely,
The Dekko Foundation Staff
https://www.dekkofoundation.org/wp-content/uploads/2014/12/santa-claus-pics-02011.jpg
1573
1562
Sharon Smith
https://www.dekkofoundation.org/wp-content/uploads/2018/04/dekko_logo.png
Sharon Smith
2014-12-16 11:19:06
2014-12-16 11:19:06
Dear Santa, Please bring our grantees...