(Note to reader: It's been an eventful couple of weeks for the Career Development Program at Garrett High School in Garrett, Indiana. First, it's director, Chad Sutton, was honored by Harbor Freight Tools for Schools as an outstanding public high school skilled trades teacher. Then the program was recognized by the Office of Work-Based Learning and Apprenticeship for receiving its State Earn and Learn (SEAL) horizontal construction certification.
The Career Development Program is featured in our 2019 annual report. We've republished that story below. To view the entire annual report, click here.)
Students in Garrett-Keyser-Butler Community School District's Career Development Program are building skills that can help make them self-sufficient and economically free as adults.
But even more impressively, they are actually building and soon will be at work on their biggest project of all: constructing a nine-lot housing addition next to Garrett High School in Garrett, Indiana.
Chad Sutton, the program's director, believes such an audacious endeavor isn't possible without partners stepping up to support the students' learning and skill development.
"It's just mind-boggling to think about how many different people are involved in this program," Sutton said. "This program would not be where it is without collaboration."
The strength of that collaboration, Sutton believes, has helped the Career Development Program garner state and national attention in the few short years since its creation. And like the program's six-acre housing addition, called Brennan Estates, he thinks even bigger things are just around the corner.
"All across the state of Indiana, because of these relationships, things are going to change for high school students," he said.
Exploring their interests
Founded in 2018, the Career Development Program helps students in grades 5-12 explore the construction and manufacturing fields by integrating academics with vocational skill building. Students take part in hands-on learning and receive career guidance in areas including construction, welding, architecture, engineering, and design.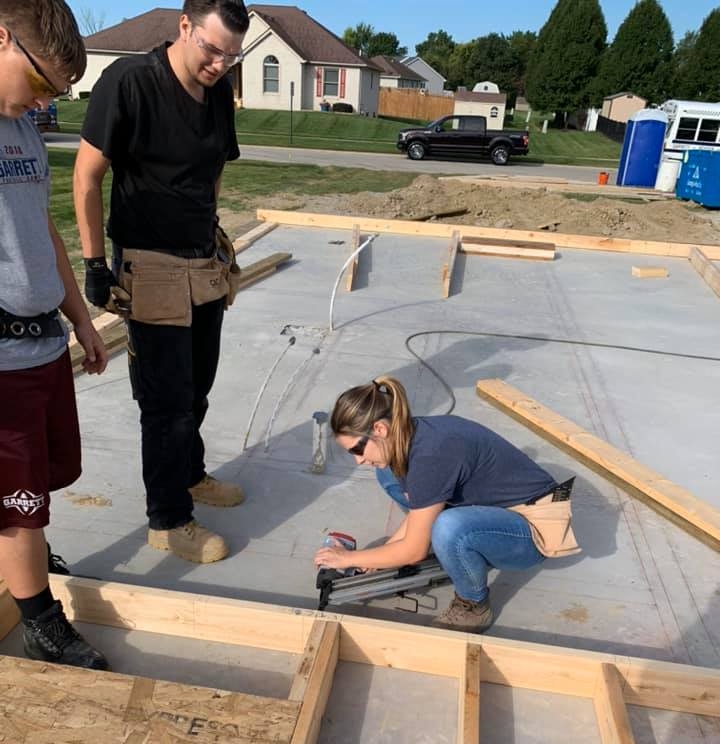 Enrollment in the program has grown quickly to more than 150 students, with about a third of Garrett High School students opting to pursue vocational skill building through the program. Sutton said the program offers choices to students to pursue their interests, and it creates educational and career options for them after graduating from high school.
"The goal is to provide an atmosphere where students can learn in a way that brings out the passion that everybody has," Sutton said.
Connecting with employers
Employers, too, were quick to embrace the program because of its ability to connect them with young people who have in-demand skills. Employers have worked with students on projects, given presentations about their companies and industries, and taken part in a "signing day" in which students announce the businesses they have chosen to work at following high school.
"It's about keeping things as relevant as possible for students, from learning, to speakers, to academics, to skill development," Sutton said.
Companies also are partnering with the school district on pre-apprenticeship experiences where students in the Career Development Program can spend a summer working for a local employer.
Because of the depth of learning and skill building that students gain through the program it has been certified by the state of Indiana's Department of Workforce Development. And the program has become a model for other schools wanting to expand their vocational offerings for students.
"This is a real option for all students," Sutton said.
https://www.dekkofoundation.org/wp-content/uploads/2020/10/GHS-4.jpg
720
960
Barry Rochford
https://www.dekkofoundation.org/wp-content/uploads/2018/04/dekko_logo.png
Barry Rochford
2020-10-23 15:51:58
2021-03-02 10:56:09
Building skills for future careers