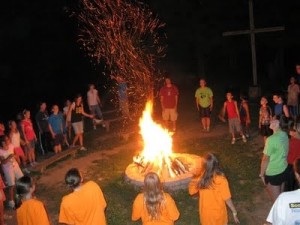 Quick!  Name a memory from summer camp! Did you think about your cabin?  S'mores around the campfire? The polar bear swim?  What about saying goodbye to Mom and Dad?
At the Dekko Foundation we're often asked to support summer camps.  So we've been thinking a lot about camps and how they support children's growth and development.
Pastor Mark Radloff, executive director of Indiana's Lutheran Outdoor Ministries, gave us some interesting thoughts about what camps do for children.  He told us that most children who go to camp want to swim, canoe or tell ghost stories around the fire.  However, he believes that they gain much more than fun experiences.  He says that they also gain a sense of adventure, self-regulation, leadership, risk management and social skills.
In Mark's blog he writes, "The truth about building character is this:  Maturation of social skills requires rejection; nurturing self-reliance requires loneliness; acquiring a sense of adventure requires fear; boosting self-esteem requires failure, learning emotional regulation requires loss; promoting unselfishness requires hardship, increasing kindness requires crowding and establishing secure attachment requires homesickness."
As adults we SO want to protect our children that society has coined a term for that protection:  helicopter parenting.  In Mark's words above though, it is so profoundly pointed out that, by not being rescued, children build many of the character traits that will help them through life.
Maybe one of the best things about camp is simply this:  Helicopters can't hover for an entire week!
https://www.dekkofoundation.org/wp-content/uploads/2018/04/dekko_logo.png
0
0
Sharon Smith
https://www.dekkofoundation.org/wp-content/uploads/2018/04/dekko_logo.png
Sharon Smith
2014-03-27 07:38:02
2014-04-09 14:44:56
Helicopters can't hover over camp!